Assessor's Office Accessibility Policy pursuant to PA 660 of 2018:
The Township Hall-Assessor's office is open on Wednesdays from 12:00 to 1:00 pm. Assessor business hours are open offsite at W8221 Sportsmen's Club Rd, Iron Mountain MI. Monday, Tuesday, Thursday & Friday 9:00 am to 5:00 pm.
A taxpayer may submit inquiries directly to Jim Waisanen at AssessorWaisanen@yahoo.com, or by phone 906-774-6141. The estimated response time to inquiries is 1 or less business days. Response time cannot exceed 7 days.
A taxpayer may arrange a meeting with an Assessing Department employee for the purpose of discussing an inquiry in-person by calling 906 774-6141.
Taxpayer requests for inspection or production of records maintained by the Assessing Department may be made by calling 906 774-6141. A Freedom of Information Act request may be required.
This department is responsible for real and personal property assessment functions in the Township of Waucedah, for ensuring that all property is fairly and equally assessed among all tax payers as required by Michigan Property tax laws, and for maintaining accurate assessment records.
Land Value Map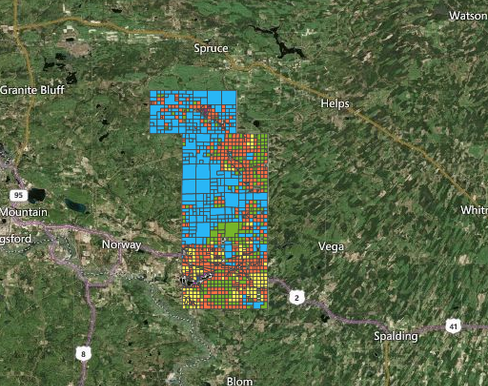 A fullscreen, interactable map can be found here
2023 Land Sales & ECF Analysis
Poverty Exemption
Below is the Townships's resolution that residents falling below State or Federal poverty lines may submit an application for tax exemption based on reasons of financial hardship.
Property Exemption
Public Records Policy
Please contact the township assessor if you have any questions, comments, suggestions:

Waucedah Township Assessor, Jim Waisanen
assessorwaisanen @ yahoo.com
(906) 774 - 6141